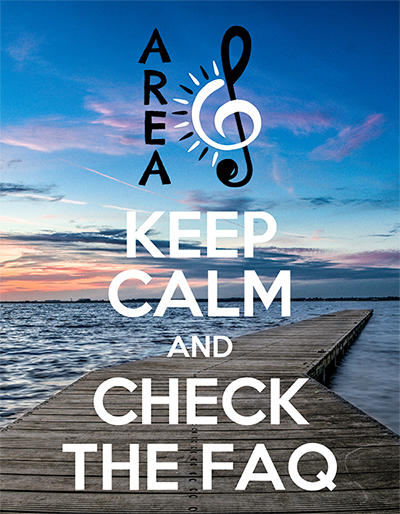 Have questions about AC&C?
We have ANSWERS!

What events are held when? (This is not a firm schedule.)
| | | |
| --- | --- | --- |
| Thursday | 3pm | Area Council Meeting |
| Friday | 9am-12pm | Craft Classes |
| | 6pm | Quartet Contest |
| Saturday | 10am | Chorus Contest |
| | 5pm | Pre-Cocktail Event |
| | 5:30pm-6pm | Banquet Opens, Cocktail 1/2 Hour |
| | 6pm | Banquet |
| | 7:30pm | Showcase in Same Venue as Banquet |


Are there Barbershop Craft Classes?
Our judges lead classes on Friday morning.
Is there a theme? How does this work?
Each year there is a different theme. This year is Black and White Ball. Each year, before AC&C, we ask each chorus to poll their members for theme suggestions and then to hold an internal vote. They then send their top choice to the Convention Chairman. Ballots are created with a list consisting of the top pick from each chorus. The ballots are given to people at registration, to fill out before they get their AEP. So, the registration desk has the ballots and a box to put them in. The decor for the banquet, the contestant mailboxes, etc. are also based on the yearly theme.
Is there a fun night?
Saturday night is for fun. We all dress up as the theme inspires us. The pre-cocktail event is usually some kind of short fun contest. (In the past, we've had a costume contest, and we've raced our mailboxes that were shaped like sailboats in the hotel pool...) The banquet is informal and often has a photo backdrop and props as part of the decor.
Are some or all choruses asked to perform at any other point than the contest itself? If so, do they usually perform something from their contest package, something else, something specific to a theme, or something assigned on the spot?
Usually, we invited every chorus or quartet that participated in the contest to sing after the Banquet Saturday night. We alternate choruses and quartets and they are generally in order of contest score, with the first-place groups singing last. As we get more groups competing, we may have to evaluate this practice. The groups perform a variety of numbers, it's entirely up to them. Some sing one of their package songs, some sing a favorite song, and some sing something related to the theme. It is the choice and they are not assigned a song.
What else would it be good for us to know?
We have a youth chorus, Children of the Chord, for members 25 years old and younger. The Youth Coordinator chooses a director and a song for the youth to perform Saturday night. It works similarly to the Minor Chords at IC&C. Music and tracks are shared in advance with youth members and there are rehearsals scheduled at AC&C.
Each chorus is assigned a job for the convention. The jobs are divided equitably between the choruses. We had the same number of choruses for a few years and were just rotating them through the tasks to be fair. As the Area has gotten larger, we will need to reevaluate the division of labor. Some of the jobs listed below will. now be broken up so that everyone is still participating and to make some of the jobs that have grown along with our Area more manageable. As an example, previously the jobs were:

Doors and Tickets for Chorus Contest
Doors and Tickets for Quartet Contest
Hospitality Room
Mail Boxes
Programs
Saturday Banquet Decor
Saturday Pre-Dinner

We ask that choruses and quartets donate baskets for a basket raffle to benefit the Area Education Fund. These baskets should arrive before the hospitality room opens.